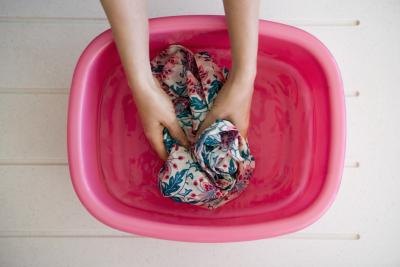 1 Cosplay knitwear should dust off before washing, and then soak in water with 30℃ for 10 to 20 minutes, wiping and vigorous scrubbing in the soapy water lightly, finally rinse them in the clear water, if it possible, you can add some fabric softener to make the costumes more soft. To contain the bright color of the cosplay costume, you can use some vinegar to neutralize the residual soap. Or you can also use the tea water to wash clothes except the white clothes. Take out one bowl of water and enough tea, after the tea water is OK, filter out the tea and dip your clothes into the water, after some Scrub, you can rinse out the dirty. This method would not only clean the dust, but also lengthened use life of cosplay knitwear.
If there have printing on your knitwear, do not pull when you wash it, rubbing would make printing deformed. The white cosplay knitwear would become dark gradual, tell you little tip, put this costume in the fridge for freeze 1 hour, then take out and dry out, the costume will Became as white as the new. If the dark knitwear stained With Dust, you can use the dirty sponge to clean it.
Cosplay knitwear should dry in the shade after washing, put the clothes on the aeration-drying place, you would better keep them flat and put them as the original form to avoid deformation. Avoid hang the knitwear under the sun. If it is possible, you can use the steam to ironing the costumes to make them maintain unique prototype, the ironing temperature should control under 150℃, and the pressure should not too big while ironing. Some printing would not be ironing, because that could make them drop. If the knitwear have purchased for some year, there must have some parts were be worn, at this time, you only need to mix the water and vinegar and sprinkling on these parts, after washing, the costume would restore as new. The cosplay knitwear should not use the deposit with hang up. The best way to put is to stack up smoothly, if there have printing, lace or bead, please be careful for these parts, do not to touch with other costumes. And during Maintenance, please keep ventilate and dry for avoiding mildew.